Background
The Connect Oregon Investor Network holds yearly events meant to connect Oregon entrepreneurs and investors in a fresh and friendly environment. The events try to displace the entreprenuers and investors from their usual advesareal relationship, to a more relaxed and team-oriented relationship.
Objectives
COiN needed a four-page mailer to send to invitees. The mailer had to explain two events targeted at two different audiences, a double-header as it were. It had to be "fun" and visually interesting to seperate it from other invitations the audience may recieve from other organizations. The mailer also needed to provide facilities to register by mail, fax, or phone.
Results
PureBlend produced a themed mailing that played on the baseball theme, described the content of the events, and provided a clear and easy way to register.

Please click the download link at the bottom of the page to download the complete mailing in Adobe Acrobat PDF format.
Investment Double Header
Brochure: COiN Seminar Series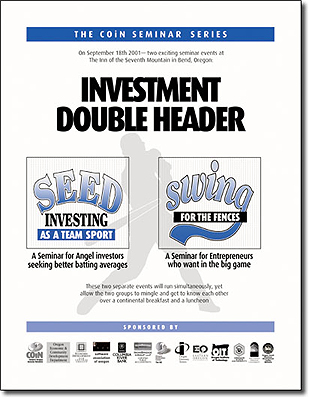 ---